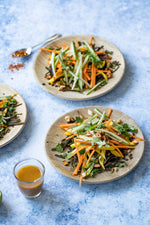 INGREDIENTS
 30 g dried seaweed spaghetti
2 medium carrots, peeled and julienned
1 cucumber, peeled , quartered lengthwise, deseeded and cut into very thin strips
1 Mango, peeled and cut into very thin strips
75 g cashew nuts, toasted and roughly chopped
25 g coriander, roughly chopped
25 g mint roughly chopped
Lucy's Ginger and Sesame Dressing
METHOD
Cook the spaghetti to packet instructions. Drain and pat dry.
Add the spaghetti to a large bowl and dress with 3- 4 tablespoons of dressing. Leave to cool
Add remaining ingredients, reserving some of the herbs, to the spaghetti and toss to combine. Transfer to shallow serving bowl and top with the remaining herbs.