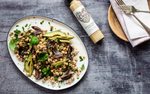 INGREDIENTS
1 large red onion, peeled and cut into 8 wedges
1 tbs olive oil
1 x 400g tin chickpeas, drained and rinsed
1 packet Merchant Gourmet Ready to eat Quinoa Red and White
50g pumpkin seeds, toasted
1 ripe avocado, peeled and cut into 4 mm slices
20g basil, roughly shredded
20g flat leaf parsley, roughly chopped
Lucy's Original French Dressing
METHOD
Preheat the oven to 220c / 200 fan.
Place the onion on a greaseproof lined baking sheet, drizzle over the oil and season with salt and pepper. Roast for 30 minutes, turning once halfway through, until soft and caramelized. Remove from the oven and allow to cool. 
Place the chickpeas in a large bowl, drizzle over 5 tablespoons of dressing and gently crush about half of them with a spatula. Add the onion, quinoa, pumpkin seeds, avocado and herbs, toss to combine and serve.