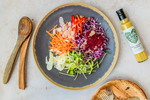 Eating the rainbow has never tasted so good and it's all thanks to this amazing recipe by Stephanie Jaffe & Lucy Miller! Packed with fibre and plant-based goodness, we'll be enjoying this quick and easy salad all Summer long! Drizzled with Lucy's Classic Vinaigrette Dressing, of course!
INGREDIENTS:
1 head of cauliflower
1 bunch radishes, sliced
¼ green cabbage, shredded
¼ head purple cabbage, shredded
3 carrots, shredded
2 red beets, chopped
2 handfuls of rocket
Small handful of sunflower seeds
100ml Lucy's Classic Vinaigrette Dressing
METHOD:
1. Use a box grater or a food processor to rice cauliflower.
2. Chop or shred vegetables.
3. Arrange all ingredients in a bowl in rainbow order.
4. Sprinkle sunflower seeds.
5. Drizzle with dressing and serve.