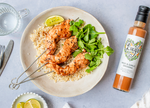 Treat yourself to these succulent salmon skewers, kindly developed by Stephanie Jaffe & Lucy Miller using our NEW Miso & Garlic Dressing.  Each recipe Lucy & her team has created is carefully curated with plenty of beneficial nutrients. This one is packed full of good fats (omega 3 fatty acids), fibre, protein and complex carbohydrates. Drizzled with Lucy's Miso & Garlic Dressing to add a complimentary kick of flavour, of course!
INGREDIENTS:
1kg salmon
120ml Lucy's Miso & Garlic Dressing
2 handfuls of rocket (per serving)
100g brown rice
METHOD:
1. Cut salmon filet into 5cm cubes
2. In a bowl, combine the salmon and Lucy's Miso Garlic Dressing and mix gently until thoroughly coated.
3. Marinate for 30 mins or overnight.
4. Preheat oven 190C.
5. Thread salmon cubes onto skewer.
6.  Roast for 12-15min until cooked through.
Serve over rocket and brown rice with an extra drizzle of dressing to serve.