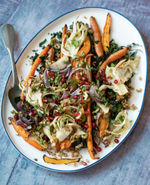 400g bunched carrots, cut in half lengthways
1 large red onion , cut into wedges
2 small bulbs fennels cut into wedges
3 strips of orange
2 tsp coriander seeds, roughly crushed
2 tbs olive oil
250g packet of Merchant Gourmet Freekeh
75g pistachio, lightly toasted and roughly chopped
1 pomegranate , seeded
Large handful of both mint and flat leaf parsley roughly chopped
Lucy's Original French Dressing
150g feta , roughly broken into chunks
METHOD
1) Preheat the oven to 200c/ 180 fan.
2) Place the carrots, onion and fennel on a large greaseproof lined baking sheet and mix together with the olive oil, coriander seeds, salt and pepper. Roast for 40 minutes , stirring half way through or until the vegetables are tender and golden.
3) Place the freekeh into a large bowl. Gently stir through the vegetables, pistachios, half the pomegranate seeds, herbs and a generous drizzle of dressing. Transfer to a large serving plate and top with the feta and remaining pomegranate seeds.