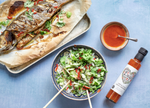 1 Whole Sea Bass (500g) scaled, gutted and rinsed
4 spring onions
2 cm piece ginger, peeled and julienned
1 red chilli, finely sliced
10 g coriander
Lucy's Lime and Chilli Asian Dressing
METHOD 
Preheat oven to 190 / Gas 5. 
Make 3-4 slashes on both sides of the fish and place on a baking sheet lined with foil. Cut 2 of the spring onions into 5 cm pieces and tuck under the fish. Sprinkle over the ginger and drizzle over 2 tablespoons of dressing.
Place the fish into the oven and roast for 20 - 30 minutes - the flesh should feel firm to the touch and should be flaky and white. Remove from the oven and leave to rest for 5 minutes.
Finely slice the remaining spring onions, sprinkle over fish with the coriander and an extra drizzle of dressing.