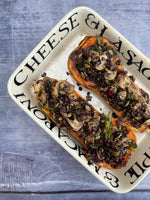 This umami-packed stuffed butternut squash recipe is a great autumnal centrepiece! The squash is roasted in our Miso & Garlic Dressing, and the flavourful stuffing is made of lentils, mushrooms, kale and cranberries, drizzled with our Honey & Mustard Dressing. So it's packed full of fabulous flavour, plus it's tasty, vegan and gluten-free.
INGREDIENTS:
1 Butternut squash
2-3 tbsp Lucy's Miso & Garlic Dressing
1 Red onion, diced
2 cloves Garlic, minced
1 tbsp Lucy's Honey & Mustard Dressing
2 teaspoons Dried thyme
100g chopped Mushrooms
250g cooked Puy lentils
40g chopped Kale
2 tablespoons dried Cranberries
2 tablespoons Pumpkin seeds
Salt and pepper
METHOD:
1. Preheat the oven to 200°C.
2. Cut the butternut squash in half lengthways, then use a spoon to scoop out and discard the seeds.
3. Rub the squash all over with Lucy's Miso & Garlic Dressing, then place in an oven-proof dish, covered with foil. Roast to 35 minutes, or until the flesh is soft, then remove the foil for the final 5 minutes to caramelise the top. The time depends on how big your butternut squash is.
4. Meanwhile, mix the remaining ingredients together in a large mixing bowl.
5. Heat the Honey & Mustard Dressing in a frying pan. Add the filling mixture and cook down for 10 minutes, until the onion has softened, the kale has wilted and the mushrooms have released their juices. Add up to 3/4 cup of water as needed. Season with salt and pepper.
6. Once the squash has cooked, remove from the oven and pile the filling into the core and on top of the squash.
7. Serve and enjoy!
If you love this recipe, you'll love our Miso & Garlic Roasted Aubergine.