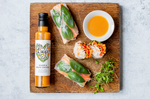 Nothing beats a crunchy summer roll on a warm day, especially when it's generously dunked in Lucy's Ginger & Sesame Dressing! These summer rolls were kindly developed by Stephanie Jaffe & Lucy Miller so they are generously packed with gut-loving goodness including juicy prawns, crunchy red peppers and carrot, cooling cucumber and fragrant fresh herbs. 
INGREDIENTS:
10 organic cooked prawns
100ml Lucy's Ginger & Sesame Dressing
6-8 spring roll wrappers
basil or mint leaves
red pepper slices
cucumber slices
carrot slices
METHOD:
1. Julienne all the vegetables and place onto a large plate.
2. Cut cooked prawns in half lengthways.
3. Combine the vegetables and prawns in a bowl and mix with Lucy's Ginger & Sesame Dressing until coated.
4. Pour warm water into frying pan.
5. Gently submerge one rice paper into the water until it becomes translucent. Gently lift the paper out, allowing the water to drip off and place the round on a clean chopping board (this will take no more than 20 seconds or so).
6. Take a small amount of the vegetables and prawn mixture and place them into the centre of the rice paper circle.
7. Gentle fold over one edge of the rice paper over the vegetables. Fold in either end, then using your thumbs, ensure the parcel is tight and continue to roll over the remaining end of the rice paper to form a neat parcel. Continue until you have four neat parcels.