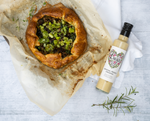 We've never made a pie since we discovered the galette, as it's easier to make and more gorgeous to stare at! Filled with leek, mushrooms and spinach, this one here is a seasonal spectacle, benefitting from a generous drizzle of our much-loved Original French Dressing.
INGREDIENTS:
320g

 
Ready-rolled Shortcrust Pastry Sheet
3

 L
eeks, trimmed and finely sliced
150g

 B
utton Mushrooms, sliced
100g

 F
ull-fat Cream Cheese
2

 T
hyme Sprigs, leaves picked
METHOD:
1. Preheat oven to 200°C (180°C fan) mark 6. Put a large baking sheet in oven to heat. 
2. Unroll pastry on to a large sheet of baking parchment. Roll out further to make a rough square. Chill while you prepare filling.
3. Melt half the butter in a large pan over medium heat and fry leeks until softened – about 10min. Add spinach and stir until almost wilted. Season to taste and empty on to a plate to cool. 
4. Return pan to high heat with remaining butter; fry mushrooms until golden. Add garlic and fry for 1min more. Set aside to cool.
5. Mix cream cheese with thyme and seasoning. Remove pastry from fridge and spread cream cheese into a rough 22cm (8½in) circle in centre. Spoon over leeks and spinach; top with mushrooms. 
6. Trim corners of pastry so border width around filling is roughly even. Fold pastry edges over in a loose, rustic style. Brush border with beaten egg. Carefully transfer (still on parchment) to the preheated baking tray in oven. Cook for about 30min until crisp and golden.
7. Serve drizzled with Lucy's Original French Dressing.