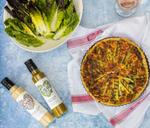 This creamy, rich Tomato & Courgette Quiche is a celebration of deliciously seasonal vegetables, filled with gruyére cheese and fresh aromatic herbs.
But as irresistible as it might be, it still boasts more bite with a healthy splash of Lucy's - perfect with our Green Pesto or Original French Dressing.
INGREDIENTS:
Ingredients for pastry:
200g Flour
125g block Margarine, chilled and cubed
1 Egg Yolk, beaten
Ingredients for filling:
4 oz chopped Onion
3 Eggs 150ml Cream
150ml of Milk
3 oz (85g) grated Cheddar Cheese or Gruyére Cheese
200g fresh Spinach
10 Cherry Tomatoes, cut in half
10 mini Courgettes, cut in half
1 teaspoon chopped Parsley
2 teaspoons chopped Chives
Salt and freshly ground Pepper
For serving:
Lucy's Green Pesto or Original French Dressing
Flan ring or deep quiche tin, 72 inch (19cm) diameter x 13 inch (3mm) high
METHOD:
1. First make the pastry. Put the flour and margarine in a food processor and process briefly. Whisk the beaten egg with 2 tablespoons of cold water, add to the mixture and continue to process as little as possible until it comes together. Turn dough out onto a floured surface, leave to rest in the fridge for 15 minutes. Then roll out the pastry and line a 8 inch quiche dish. Return to the fridge for 15 minutes.
2. Bake pastry shell blind at 180℃/350℉ for 15-20 minutes.
3. Meanwhile, in a frying pan, cook the onions gently for about 10 minutes. Cool.
4.Boil a pot of water, cook the spinach for 1-2 minutes until wilted, then drain and squeeze as much water as possible from the spinach.
5.Cut the courgettes in half and cook on a high heat with a little oil until cooked, cool and set aside. (Cook the courgettes in the pesto dressing here or toss through afterwards?
4. Whisk the eggs, add the cream, milk, herbs, cheese and onions. Season with salt and pepper.
5. Pour the filling into the baked pastry shell. Add in the spinach, courgettes and tomatoes neatly arranged. Bake for 30-40 minutes, or until the center is just set and the top golden.
Serve warm with a green salad, drizzled with Lucy's Green Pesto or Original French Dressing.