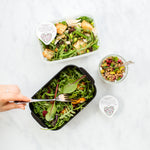 With the back to school rush starting to set in, and the out of office being taken off many people's email accounts, here is one of our favourite lunchbox salad recipes, which is perfect for resetting this September! 
Ingredients
350g Asparagus, trimmed and cut in half lengthways
200g fine Green Beans, trimmed
300g Broad Beans, fresh or frozen
1 Banana Shallot, finely sliced
1 bag of Steve's leaves - pea shoot
1 tbs Black Sesame Seeds
Lucy's Zesty Lemon & Caper Dressing
Method
Bring a large pan of water to the boil. Add the asparagus and blanch for 2 -3 minutes or until just tender. Using a slotted spoon remove from the water and refresh. Add the beans and blanch for 3 minutes and use the slotted spoon to remove from the water and refresh.Add the beans and blanch for 1 minute and drain and refresh. Remove the skin from the broad beans.
Place all the vegetables in a large bowl with the shallot and salad leaves and toss together with the dressing and season. Sprinkle over the sesame  seeds and serve immediately.