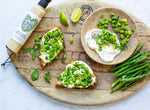 This delicious broad bean, mint and ricotta bruschetta is perfect for a lighter summer supper and is made even tastier with our Light and Tangy French dressing 
Ingredients
175 g Broad Beans (frozen or fresh), blanched,refreshed and peeled
1 tsp lemon zest
Lucy's Light and Tangy French Dressing
Large Handful of mint leaves, roughly chopped
2 Slices Crosta Mollica Pane Pugliese Drum or Sourdough
1 tbs Extra Virgin Olive oil
1 clove garlic, peeled
100 g Ricotta
Salt and Black Pepper
Method
Place the broad beans and lemon zest in a bowl and lightly dress with the dressing. Stir in the mint and season with salt and pepper.
Preheat a char- grill pan over a high heat. Brush the bread with the olive oil. Grill the bread on each side until lightly charred. Rub one side of each slice of bread with the garlic.
Spread each slice with the ricotta, and top with the beans.