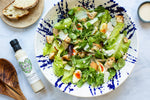 Lucy's Classic Caesar Salad
INGREDIENTS
2 thick slices ciabatta
2 tbs olive oil
1 large garlic clove, roughly crushed
1 Cos lettuce
Lucy's Caesar Salad dressing
25g Anchovy fillets, roughly chopped
50 g Parmesan , finely grated
Method
Preheat the oven to 180c.
Roughly tear the ciabatta into bite size pieces and place on baking sheet with the garlic. Drizzle over the olive oil and rub into the bread. Placed in over and bake for 15 - 20 minutes until golden and crisp.
Place the cos leaves into a salad bowl and toss with the Caesar dressing and half of the parmesan. Top with the croutons , anchovies and remaining Parmesan. Serve immediately.