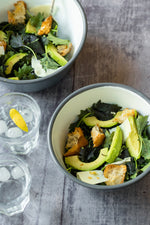 INGREDIENTS
½ loaf Ciabatta
4 tbsp olive oil
1 clove garlic, crushed 
500g Kale, trimmed and coarsely chopped
1 large Avocado
40g shaved Parmesan
Lucy's Caesar Dressing
METHOD
Preheat oven to 180c / Gas 4.
Tear the bread into 2cm pieces and place on a baking tray. Drizzle over 3 tablespoons of olive oil and scatter over the garlic. Place in oven and bake for 10 minutes or until golden and crisp.
Place the kale, the remaining oil and a generous pinch of salt in a large bowl. Rub well to soften the leaves (it will lose half of its volume). Pour over 3 tablespoons of dressing and toss gently together. Transfer to a salad bowl and top with the avocado, parmesan and drizzling of the dressing.