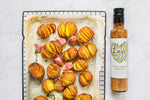 Golden roasted potatoes with serious umami - the perfect partner for our Honey and Mustard Roasted Chicken!
INGREDIENTS
1 kg small floury Potatoes, peeled
Cloves from 1 head of Garlic
Handful Flat leaf parsley
 METHOD:
1. Preheat the oven to 200c / Fan 180c
2. Place the potatoes in a medium pan and cover with cold water. Bring to the boil and bring to the boil. Simmer for 5 minutes and drain. Allow the potatoes to steam dry and then return to the pan. add a generous amount of Lucy's Miso and Garlic Dressing and gently mix to coat the potatoes. Transfer to a baking sheet and place in the oven for 20 mins. Add the garlic cloves and cook for a further 20 minutes or until the potatoes are crisp and gold and the garlic is soft.
3. Transfer to a shallow serving bowl and sprinkle over flaked sea salt and parsley.