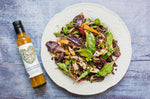 Using up your leftover Honey and Mustard Roast Chicken and veggies has never been so delicious!
INGREDIENTS
Packet of Merchant Gourmet Puy lentils
225g leftover Chicken
Leftover Red onion wedges
Leftover Carrots
Lucy's Honey and Mustard Dressing
2 strips of Orange peel
25g Almonds, toasted and roughly chopped
100g Watercress
 METHOD:
1. Preheat the oven to 180c / 160 c fan.
2. Put the chicken and vegetable into an ovenproof dish and cover with foil. Place in the oven for 15 minutes until warmed through.
3. Meanwhile place the lentils in a pan with the orange peel and a generous drizzle of dressing. Gently warm through over a medium heat.
4. Place the lentils in a large bowl and gently stir through the chicken, vegetables and watercress. Transfer to a large serving plate and top with the almonds.