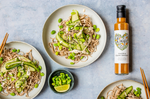 Who knew that cucumbers could taste so delicious? Simply slice them, toss them through cooked soba noodles and drizzle over Lucy's Ginger & Sesame Dressing! A big thanks to Stephanie Jaffe & Lucy Miller for creating this delicious recipe. Not only does this speedy dish taste divine, it's packet with gut-friendly fibre and healthy fats!
INGREDIENTS:
80ml tahini
120ml water
2 small English cucumbers
100ml Lucy's Ginger & Sesame Dressing
2 tbsp sesame seeds
8 oz soba noodles (Clearspring)
 METHOD:
1. Bring a large pan of salted water to boil and cook the soba noodles until al dente, according to package directions. Drain and rinse under cold water.
2. Cut cucumber into long skinny stripes
3. Whisk Lucy's Ginger & Sesame Dressing, tahini and water until you have reached your desired consistency.
4. Toss noodles, cucumbers and sesame seeds in dressing and serve immediately.