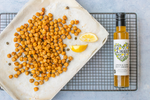 Transform the humble chickpea into a delicious, fibre and plant-based protein packed snack with a generous drizzle of Lucy's Lemon & Caper Dressing! A big thanks to Stephanie Jaffe & Lucy Miller for this delicious idea! Add to salads or eat on their own for a nutrient and flavour rich snack!
INGREDIENTS:
1 tin of chickpeas (rinsed and dried)
120ml Lucy's Lemon & Caper Dressing
METHOD:
1. Preheat oven to 200C.
2. Toss chickpeas with salad dressing in a bowl.
3. Pour chickpeas onto a baking sheet and roast for 20 mins or until chickpeas are crispy and golden brown.