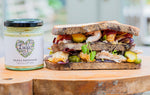 Continuing the festive indulgence with this next level Christmas Leftover Sandwich. Brimming with leftover turkey, Snaffling Pig pork crackling, watercress, cranberry sauce and most importantly Lucy's decadent Truffle Mayonnaise! The perfect balance of sweet and savoury, crunchy and soft, creamy and sharp. Sneak in some extra veggies with a spoonful of leftover Christmas Red Slaw.
INGREDIENTS
Leftover Turkey, thinly sliced
Snaffling Pig Pork Crackling
Cranberry Sauce
Handful of Watercress
2 slices of toasted Sourdough
METHOD
Layer up the sandwich starting with the cranberry sauce and top with the turkey, snaffling pig, watercress and a generous dollop of Lucy's Truffle Mayonnaise.