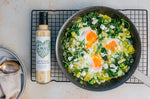 Brunchin' on Braised Eggs with Leeks and Spinach! Creamy and buttery but packed with greens, healthy fats and lean protein. Drizzle with Lucy's Original French Dressing, then dunk crusty bread into the jammy egg yolks - a delicious start to the day.
INGREDIENTS
25g Butter
1 tbsp Olive oil
2 large Leeks, trimmed and cut into ½ cm slices
1 tsp Lemon zest
300ml Vegetable stock
200g Baby spinach
2 tbsp Chopped tarragon, plus extra to serve
6 large Eggs
100g Feta
Lucy's Original French Dressing
Crusty Bread, to serve 
METHOD
Heat the butter and 1 tablespoon of oil in a large saute pan. Add the leeks, a pinch of salt and black pepper. Fry for 4 minutes until the leeks have softened. Add the lemon zest and stock and boil rapidly until most of the stock has evaporated. Stir in the spinach and tarragon until just wilted and reduce the heat to medium.

Use a large spoon to make 6 large indentations in the mixture and break an egg into each. Crumble the feta around the eggs and cover with a lid. Simmer for 4-5 minutes until the eggs are cooked.

Drizzle over Lucy's Original French Dressing, top with remaining tarragon and serve straight from the pan with crusty bread.