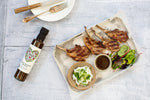 Our Classic Balsamic dressing is the perfect addition to this delicious lamb recipe - super simple to make yet so tasty, our kind of meal!
Ingredients
6 Lamb cutlets
Lucy's Balsamic Dressing
100g Greek Yoghurt
¼ cucumber
1 clove Garlic, crushed
1 tsp Lemon juice
1 tbs Extra Virgin Olive Oil
1 tbs roughly chopped Mint
1 tbs roughly chopped Dill
Method
Place the lamb cutlets in a shallow dish and pour over a generous amount of balsamic dressing. Cover and leave to marinade for 2 hours.
Coarsely grate the cucumber and squeeze out juice with your hands. Place in bowl with the yoghurt, garlic, lemon juice, olive oil and herbs and stir to combine. Season with salt and pepper.  Set aside until needed.
Heat a BBQ until hot. Place the lamb cutlets on BBQ and sear for 2 - 3 minutes on each side . Allow to rest for 5 mins then serve with the Tzatziki.