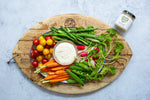 With July shaping up to be full of beautiful weather, we're excited for lots of al-fresco dining starting out with delicious canapes and of course some Pimms or Rosé! These Crudités not only look beautiful but are so quick and simple to whip up. 
Ingredients
Selection of summer vegetables including radishes, baby carrots, sugar snap peas, British Asparagus and Isle of Wight Tomatoes
Lucy's Lemon Mustard Mayonnaise
Method
Arrange the vegetables on a large board and serve with the Lemon Mustard Mayonnaise.