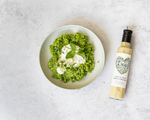 Lucy's Light and Tangy French Dressing
225g Shelled Broad Beans (frozen or fresh)
225g Frozen Petis Pois, defrosted
Large handful Mint Leaves
2 tbsp Greek Yoghurt
METHOD
Bring a medium pan of water to the boil. Add the broad beans, simmer for 1 minutes, drain and refresh. Remove the skin from the beans.
Place the broad beans, peas and mint in a food processor with 2- 3 tablespoons of Lucy's Light and Tangy Dressing. Whizz until smooth and season with salt and pepper.
Spoon into a shallow bowl, swirl in the yogurt and top with mint leaves.