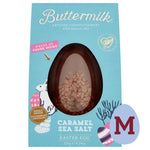 Here at Lucy's, we're already looking forward to the Easter weekend for a full weekend of relaxing with family and friends and eating a whole lot of chocolate! When you go into any shop at the moment, you're bombarded with Easter Eggs, so we've put together our top ten eggs, to get any chocolate fanatic excited. 
Buttermilk Salted Caramel with Fudge Easter Egg
Image credit,  Ocado 
This egg is described as being filled with sea salt fudge 'which crumbles and melts in the mouth, for delicious little bursts of salt and intesne caramel sweetness.' We're such fans of Buttermilk Fudge here at Lucy's and at one trade show were lucky enough to be on the stand next to them, so we were able to get our sweet, chocolatey fix all day long!
Available on Ocado for £10. 
Rococo Chocolates Salted Caramel Superior Seagull Eggs Box
Image credit, Rococo website 
These eggs are described by Rococo as having 'gained a cult following and have also become a year-round bestseller, riding on the salted caramel wave!' Ursula was given these eggs last year for Easter by her parents as they prefer to do a few smaller, unusual chocolates than a big egg, (which she thinks is the way to go) and agrees that 'these eggs are amazing, beautiful packaging and delicious salted caramel flavour. I'm really hoping I receive these again this year!'
Available directly from Rococo, Liberty's or the Conran Shop for £8-9.50 
Waitrose Belgian Dark Chocolate Avocado Easter Egg
Image credit, Ocado 
We really couldn't do a round up of this year's Easter offering and not mention this avocado egg. Released by Waitrose last year and practically instantly selling out, this year it has returned, along with mini formats of the avo and jelly avocados too. As we're serious avo addicts here in the Lucy's office, this is certainly on our wishlist. 
The larger egg is available in Waitrose and on Ocado for £8 
Heston for Waitrose Chocolate Scotch Egg
Image credit, Waitrose 
Waitrose are hoping to be on to another best-selling Easter gimmicky treat, that you will no doubt see plastered all over Insragram - last year it was an avocado, this year it's a chocolate scotch egg. It's already fully sold out on Waitrose online and Ocado, but Waitrose say you may be able to grab one of their elusive eggs in store. Watitrose says 'Milk chocolate maple crunch replaces breadcrumbs, the meat is now a delicately smoked milk chocolate caramel ganache while a zesty mango and yuzu fondant forms the golden yolk at the centre;' we can see why it's sold out when it sounds so delicious. 
Available in Waitrose stores subject to availability for £6
Image credit, John Lewis 
Montezuma's Absolute Black Vegan Chocolate Easter Egg
For all you dark chocolate lovers, Lucy most certainly falls into this category, this egg is going to tick all the boxes. Made with 100% cocoa, this egg contains no added sugar, dairy, milk or gluten, so is the perfect Easter treat for a vegan pal or someone who just seriously loves dark chocolate. 
Available at John Lewis for £9.99
Fortnum and Mason Chirpy Chicks Matchbox

Image credit, Fortnum and Mason
Fortnum and Mason has quite the selection of Easter treats this springtime. The packaging on these milk chocolate spring chickens is a delight and is the perfect gift for a loved one. 
Available at Fortnum and Mason for £6.50
Cadbury Creme Egg
Image credit, Ocado 
We couldn't have a list of Easter Eggs and not include an old school classic. The humble creme egg is still going strong, even after the controversy of no longer being made with Dairy Milk - from mini creme eggs, to XL eggs there really is something for every creme egg fan. 
Available at all major supermarkets for £1+ 
Lindt Bunny 
Image credit, Ocado 
Again another classic, but we couldn't not feature it, is the Lindt bunny. A staple of many an Easter celebration, the Lindt bunny family has extended to be available in milk, white and dark choc and in any size conceivable. There's much debate here at Lucy's as to which is the best flavour, which is your favourite? 
Available at all major supermarkets for £1+
Monty Bojangles Choccy Scoffy Easter Egg
Image credit, Waitrose 
The main reason for including this one is that I just love the name. On top of that Monty Bojangles products are always super delicious and this egg comes complete with some of their french cocoa dusted truffles, a Great Taste Award winner in 2018. 
Available from Sainsbury's for £5
Pump Street Bakery, Single Origin, Milk Chocolate Easter Eggs 
Image credit, Pump Street Bakery 
These Pump Street eggs are perfect if you fancy a slightly more sophisticated Easter offering. Made using a combination of 58% Madagascan and 60% Ecuadorian cocoa, the flavour on these is delicious and a perfect gift this Easter. 
Available from Pump Street Bakery directly for £8.25
We'd love to know how your Easter plans are shaping up. Are there any chocolates that you buy year in, year out and you think should have made our top ten? We'd love to hear from you. 
Love, Lucy's Dressings x