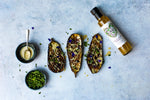 With two bank holiday long weekends just around the corner, we've compiled some of our favourite al fresco recipes that are super quick and easy to whip up, meaning you have more time to spend with your friends and indulge in a cheeky glass or two of rosé! 
Roasted Aubergine with maple and tahini 
This is one of our absolute favourite recipes for a veggie BBQ alternative - guaranteed to be loved by vegetarians, vegans and meat-eaters alike. It's so easy to make, yet the flavour is delicious.
Ingredients: 
2 aubergines
Lucy's Classic House dressing
1 tsp dried coriander
1 tsp dried cumin
2 tbsps of tahini
2 tbsp of maple syrup
30g pine nuts
Fresh coriander & mint, finely chopped
Method

Cut each aubergine into quarter wedges lengthways. Lie on a plate and coat in salt. Leave for a few hours so the water seeps out. Before cooking pat dry with a clean tea towel.
Pre heat the BBQ. In a mixing bowl, coat the aubergines in the coriander, Classic House dressing, cumin and salt & pepper. Place on the BBQ until crispy and cooked through. 
Whilst the aubergine cooks, mix together tahini and maple syrup to form a light dressing.
Drizzle the tahini, maple dressing over the aubergine and sprinkle over the chopped coriander, mint and pine nuts.
Green Goddess Salad
This super quick and easy salad brings together a load of your classic greens and is made even more delicious with Growing Underground micro-herbs and Lucy's Original French dressing. 
Ingredients:
2 avocados diced
3 butter lettuces 
1/2 a bunch of spring onions, diced
1 bag of Steve's Leaves pea shoots
Growing Underground Micro Herbs
Lucy's Original French Dressing
Method:
1) In a large salad bowl, combine the lettuce, spring onions, avocado and pea shoots.
2) Dress with Lucy's Original French Dressing just before serving. 
Chicken Satay Skewers 
Another perfect recipe for the BBQ, and something a little bit different to your classic burgers and sausages which are normally a staple at any BBQ. We've used our favourite peanut butter, ManiLife for this recipe - you really can't beat their creamy PB! 
Ingredients:
4 chicken thighs, cut into strips
6 tbsp peanut butter (we love Mani-Life)
3 tbsp of Lucy's Ginger Sesame
Sesame seeds
2 spring onions, finely chopped
Method:
Heat up the BBQ. 
Mix together the peanut butter, Lucy's Ginger & Sesame Dressing, salt and pepper until smooth. Add your chicken strips to half the satay sauce and evenly coat.
Thread the chicken strips onto a metal skewer and cook on the BBQ until crisp and cooked through, turning over regularly.
Once cooked, place the skewers on a serving tray and sprinkle over the sesame seeds and spring onion. Serve with the remaining satay sauce as a dip.
Blushing Beetroot and Yoghurt Dip 
This dip is such a classic to whip up for any summer event - a perfect alternative for the classic hummus and veg! 
Ingredients:
5 tbsps Blushing Beetroot 
Juice of 1/2 lemon
250g yoghurt 
Juice of ½ lemon
Salt & pepper
Method:
1) Place the yoghurt, Lucy's Blushing Beetroot relish, lemon juice, salt and pepper into a bowl and mix. 
2) Serve the dip with crudites. 
We'd love to know if you make any of these dishes, so please do tag us and let us know your plans for these upcoming May bank holidays! 
Lucy's Dressings x