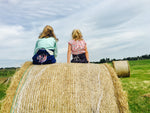 No matter your best intentions, sometimes we all end up running just a little bit too late for things, but never fear, here at Lucy's we've collated five of our favourite last minute gift ideas to treat your Mummy this Mother's Day. 
1) Why not indulge your Mum in the ultimate homemade feast? We've put together our favourite spring recipes in this post here, which makes for the most delicious meal to spoil your Mum with. 
Image Credit: Cornish Ware Instagram here 
2) Here in the Lucy's office, we are loving the new Cornish Ware designs, so many fabulous colours to choose from! If you're not running too late, you may be able to squeeze in some beautiful personalisation on the mugs too! 
Image credit: Wool and the Gang Instagram here 
3) Wool and the Gang is perfect for all those crafty Mum's out there. Attempting to making knitting cool again, their sets come with everything that you need to make anything from a hat to a blanket. They come in the most gorgeous colours and softest wool, plus no plastic as all the needles are wooden! 
Image credit: Ursula at Lucy's Dressings 
4) A beautiful bouquet of flowers is always an easy win! We love going to a local florist for the prettiest hand-tied bouquets. Or if you want something to last a little longer, go for some succulents. Our local Clapham Flowers always has gorgeous bouquets, and Battersea Flower Station has the most wonderful sheds full of potted plants. 
Image Credit: Union Station Yoga Instagram here 
5) Why not take your Mum along with you to a yoga class for an hour of complete relaxation. We recently tried out Union Station Yoga on one of our team Fun Friday's and completely loved the hour of bliss at this small studio on Lavender Hill. 
How will you be celebrating Mother's Day this year? We'd love to know! 
Love, Lucy's Dressings x