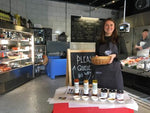 As a small British business, who make all our products here in the UK, we have greatly appreciated everyone's support over the past few months. So we thought we would shine a light on some of our fave small British businesses, along with some of our independent stockists and maybe you'll be inspired to mix up your shopping too!
Independent Stockists (where you can of course also find Lucy's!) 
Moxons (Clapham South and Kensington)
Moxons in Clapham is one of our most local stockists, who stock the most wonderful fish and seafood, and of course our dressings and mayonnaises. Here Hebe is at a tasting on a Saturday afternoon (pre lockdown), right before the shop opened and the madness began, apparently the queue was out the door for most of the day, clearly everyone knew Lucy's was stocked! 
As Nature Intended (Various locations across London)
We're thrilled to be in this fabulous chain of stores across London. You can now pick up 4 of our delicious dressings and 4 of our mayonnaises, and we always love visiting stores to find out what other gems we can find in store! 
H G Walter (Baron's Court) 
This amazing butchers in Baron's Court is full to the brim of delicious produce and is a foodie's dream. The quality of their meat is next level and will totally up your BBQ game, and why not make it even more delicious with Lucy's, also available in store. 
(Image credit: Time Out) 
Some of our fave new small British businesses: 
Pawty Prints makes the cutest pet bandanas and bow-ties. They have also started making matching scrunchies, hair bands and face masks so you can match your fluffy pal! All hand-made in the UK and custom options available, this is a brilliant little business set up during lockdown and Rhino has already placed his order for a bandana and bow tie! Shop here or DM on Instagram. 
'Lockdown Liquor Co. was created in the depths of a pandemic to help bring some joy and happiness to accompany those at home lockdown moments, alongside raising awareness and funds for NHS Charities Together.' They make delicious pre-mixed cocktails perfect for a night in! 
Another company launched at the beginning of lockdown, Mighty Small have curated the most wonderful selection of small British food businesses, meaning you can get so much deliciousness in one order! Plus they're offering 10% of your first order and free delivery on orders over £50, and of course you should be adding some Lucy's to your order as well! 😉 
Pepper and Ink
Pepper and Ink sells absolutely beautiful homewares and is run by two lovely sisters. They began sourcing and selling affordable home accessories in 2014, and we love their style. We use their products in our photoshoots too, so you might recognise some of their designs! (The plate below is linked here, in a lovely but different colour) 
Dr Vegan, a newly launched supplement company, aims to bring clarity and simplicity to the world of supplements. After creating a personal diet profile, you can discover your personal requirements and order the right supplements, delivered direct to your door! Their nutritionists have over 30 years experience and as the name suggests all the products are vegan - a very exciting new company! 
Check out their website here. 
We'd love to know which are your fave small British businesses!
Lucy's Dressings x