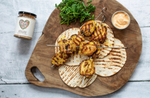 We've put together some of our favourite recipes that are perfect for enjoying in the August sunshine, which hopefully will be in abundance! 

Whether it's a salad drizzled with Lucy's to be enjoyed as a side , to using Lucy's as a delicious shortcut for the BBQ, we've got you covered and hope that you love these recipes as much as we enjoyed making them! 

We've also provided links straight through to our shop, so you can stock up for the summer ahead, and with our full range available there's something for everyone!
COCONUT CARDAMON SKEWERS 
Delicious griddled chicken thigh skewers, served with a good dollop of our brand new lime and chilli mayonnaise for a fiery punch perfect for a cosy night in! 
INGREDIENTS
450g boneless chicken thigh fillets
125ml coconut cream
1 tbs finely grated ginger
1 clove garlic, crushed
1 tsp ground cardamom
1 tsp turmeric
1 tbs olive oil
4 small wraps, lightly charred
1 green chilli, seeded and thinly sliced or dried chilli
Lucy's Lime and Chilli Mayo 
METHOD
1. Place the chicken, coconut cream, ginger, garlic, cardamom, turmeric, oil in a large bowl and mix to combine. Cover and place in the fridge for an hour or overnight.
2. Heat a griddle pan over a high heat. Add the chicken and grilled for 3- 4 minutes on each side until chard and cooked through.
3. Serve the chicken in the wraps with mayo and some extra chilli. 
Lucy's Product: Lime and Chilli Mayonnaise, buy here. 
ROASTED BUTTERNUT SQUASH AND BURRATA SALAD
A deliciously hearty salad with torn burrata scattered throughout before being drizzled with our Green Pesto dressing. The squash in this would also be delish BBQed or with any vegetable that you could cook on a BBQ. 
INGREDIENTS
1 medium Butternut Squash
2 tbsp olive oil
½ tsp chilli flakes
1 ball Burrata
50 g Rocket
Lucy's Pesto Dressing
METHOD
Preheat the oven to 200c / gas 6.
Cut the squash in half lengthwise and then into 1cm wedges. Place on large baking tray and drizzle over the olive oil. Sprinkle over the chilli flakes and season with salt and pepper. Place in oven and roast for about 30 minutes or until squash is tender and golden brown at the edges.
Place the butternut on a large serving plate, tear over the Burrata and top with the rocket. Drizzle over the dressing and serve.
Lucy's Product: Green Pesto dressing, buy here. 
WATERMELON AND FETA SALAD
We're often asked what is the best way to use this dressing, as the dressing has no added sugar besides what naturally occurs in the fruit and is also made with raspberry vinegar, it works deliciously with soft cheeses, green salads and avocados - and of course this salad too!
INGREDIENTS
1 small watermelon
200 g feta
50g pumpkin seeds, toasted
Handful mint leaves , roughly chopped
Lucy's Fresh and Tangy Raspberry Dressing
METHOD
Cut the watermelon into thick wedges and arrange on a large platter.
Crumble over the feta and sprinkle over the pumpkin seeds.
Drizzle over the dressing and top with the mint. Serve immediately.
Lucy's Product: Fresh and Tangy Raspberry, buy here. 
BBQed PRAWNS WITH CORIANDER YOGHURT 
Juicy BBQed prawns marinated in Lime and Chilli Asian dressing, perfect for any al-fresco feast. Buy your prawns with the shells on from your local fishmonger to ensure their the freshest you can get, meaning you'll get the most delicious flavour. 
INGREDIENTS:
Lucy's Lime and Chilli Asian Dressing 
6 Large Raw Tiger Prawns
25g Coriander
1 clove garlic
100g Greek Yoghurt
METHOD: 
1. Heat a char-grill pan or BBQ until very hot. 
2. Thread the prawns onto metal skewers and put on a large plate. Drizzle over the dressing and leave to marinade for 10 minutes. 
3. Place the coriander and garlic into the small bowl of a food processor and whizz until finely chopped. Add yoghurt and pulse until just combined. Transfer into a small bowl until ready to serve. 
4. Place the prawns in the pan and cook for 2-3 minutes on each side until lightly charred and cooked through. Serve immediately with the yoghurt dipping sauce. 
Lucy's Product: Lime and Chilli Asian, buy
here
.
What's your fave al-fresco dining recipe? Let us know! 
Lucy's Dressings x