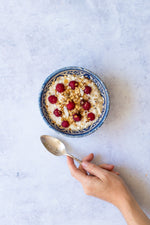 With September just around the corner, it's the perfect time to reset a few areas of your routine and adopt some new habits, which we think will ease you back in nice and easily. 

We've rounded up everything from our favourite water bottles, to our little hacks for making everything (hopefully) run a little bit smoother, whether that be in the back to school rush or returning to the office. 
First up, the reusable water bottle 💦
Investing in a good quality (non leaky!) water bottle will make the world of difference to your life and will mean you're doing your bit for the environment too - all of us in the Lucy's office always has our bottle on our desk ready for a mid morning slurp. Whilst, on the pricier side, we love a Chilly's bottle - they keep your water cold for 24 hours and warm for 12 hours, a real winner in our eyes. 
Organise that weekly shop 🛒
Ocado is a super easy way to make sure everything is just that little bit more under control. Once you've done one order, it will remember your favourites, saving you precious time and means no more annoying queues at the supermarket! We also love Ocado because it has such an amazing array of brands, from delicious new start-ups to everyday essentials - if you're an Ocado regular, make sure you add some Lucy's Dressings to your basket as well!
Image credit: The Pretty Bee 
Snacks 😋
Gone are the long al fresco late lunches of summer, and it may be that on return to the office, you're hit with a real case of a the mid morning munchies. May's go to snack is a Deliciously Ella nut butter ball, (the office favourite is the hazlenut one); whilst, Lucy loves a handful of granola to keep that hunger at bay. Now is also the best time of year for apples, so why not dip a few wedges of apple in some PB or just enjoy the sweetness of them on their own - remember to keep those Granny Smiths and Braeburns in the fridge for extra crunchiness! 
Image credit: Amazon
Tidy Desk, Tidy Mind 🤓 
Ursula always has a rather messy desk but has recently invested in one of these desk organisers and whilst it may have taken her and May a good 30 minutes to assemble, it has really improved the tidiness of her desk and there's no longer shouts in the office of 'where's this?!' or 'where's that?!' Put aside a few hours to organise your desk, top up stationary supplies and find a proper place for everything - it's made a real difference in the Lucy's office, that's for sure. 
Image credit: Ursula
Cut the Coffee Run ☕️
Rather than making that mid morning dash to Pret, or in our case the Gail's we can see from our office window, invest in some delicious herbal teas, we love Pukka, to shake up your mid morning beverage stop and save yourself money each day. Just to note, since the adorable pic of Rhino was taken, we have invested in some keep-cups meaning if we are tempted for that Gail's coffee, we make sure a reusable cup is taken with us! 
Image credit: Papier 
Lists, Lists, Lists  🖋
May is never far from her 'To do list' notepad at work and says that it's the best way to make sure she is on top of everything, and that she's much more likely to remember everything if it's handwritten. Lucy's top tip for list making is make sure that everything is separate: have one list for work, one list for personal, one list for family etc, that way the list will never looking never-ending and everything seems just that little bit more doable. Hebe says that she loves to write her weekly to do list for the following week on a Friday afternoon, so when she comes in on Monday, she is all good to go. We love notebooks and diaries from Papier for making lists, or these super simple pre made list notebooks from Amazon, or why not try apps such as Wunderlist. 
Breakfast on the Go 🥣
Now we know quite a few of these tips are food based, but we are a food business after all. Here in the Lucy's office, we all bring our breakfasts in and tend to eat them whilst checking our emails first thing. The go to tupperware brekkie is overnight oats, which we all just can't get enough of!  Ursula's favourite combination is berries and peanut butter; to make hers, the night before she mixes oats with a plant based milk (normally oat), before adding a handful of frozen berries, pumpkin seeds and a dollop of peanut butter. This is left in the fridge overnight and in the morning a handful of fresh blueberries is added - delicious! We've put together some of our favourite breakfast recipes, which can be found here. 
Those are just a few of our top tips on how to reset now that September is nearly upon us - what are your top tips? We'd love to hear them. 
Lucy's Dressings x