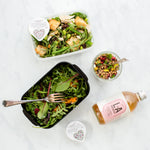 With the back to school rush starting to set in, and the out of office being taken off many people's email accounts, we have compiled some of our favourite lunchbox friendly recipes that will make easing back into a routine so much more simple! All of these recipes are perfect to make the night before for dinner and then take the leftovers for lunch the next morning; or if you're more of a Sunday batch cooker, why not rustle up one of these salads and then eat if for a few days at lunchtime, saving you precious time and money. 
Asparagus, French Bean, Broad Bean Salad with Black Sesame Seeds 
Ingredients
350g asparagus, trimmed and cut in half lengthways
200g fine green beans, trimmed
300g broad beans, fresh or frozen
1 banana shallot, finely sliced
1 bag of Steve's leaves - pea shoot
1 tbs black sesame seeds
Lucy's Ginger and Sesame dressing
Method
Bring a large pan of water to the boil. Add the asparagus and blanch for 2 -3 minutes or until just tender. Using a slotted spoon remove from the water and refresh. Add the beans and blanch for 3 minutes and use the slotted spoon to remove from the water and refresh.Add the beans and blanch for 1 minute and drain and refresh. Remove the skin from the broad beans.
Place all the vegetables in a large bowl with the shallot and salad leaves and toss together with the dressing and season. Sprinkle over the sesame  seeds and serve immediately.
Puy lentils with roasted red onion and goats cheese
Ingredients
Lucy's Classic Balsamic Dressing
1 small Butternut Squash, halved, deseeded and cut into 2cm wedges
2 red onions, each cut into 8 wedges
3 tbsp olive oil
250g Merchant Gourmet Puy lentils, ready cooked
100g Rocket
125g Goats cheese
Method
Preheat the oven to 220c
Place the butternut and onions onto a large baking tray and drizzle over the olive oil . mix well and roast for 30 -40 minutes until golden.
Place the lentils into a medium sauce pan and pour over the dressing. Warm the lentils for 2 - 3 minutes adding a splash of water if necessary.
Place the warm lentils in a large salad bowl and stir through the squash and onion and season with salt and pepper.Top with the rocket and crumble over the goats cheese.
Lucy's Ultimate Chicken Salad
 Ingredients
Lucy's Classic House Dressing
25g Raisins, soaked in boiling water for 15 minutes and drained
Small ciabatta, roughly torn
1 tbs olive oil
225g cooked chicken, torn into pieces
25g pinenuts, toasted
1 table spoon Capers
100g Salad leaves (Rocket and watercress)
 Method
Preheat the oven to 200 c.
Place the bread onto a baking sheet and drizzle over the oil olive. Bake in oven for 10 - 15 minutes or until golden and crisp.
Place all the ingredients into a salad bowl and drizzle over the dressing . Toss gentle to combine and serve.
Grain, Pomegranate and Feta Salad  
Ingredients
Lucy's Raspberry Dressing
250g Merchant Gourmet Glorious Grains, ready cooked
Seeds from 1 Pomegranate
Large bunch of Flat Leaf Parsley, roughly chopped
100g Feta
 Method
Place the grains in a large salad bowl.
Drizzle generously with the dressing and mix to combine. Stir in the pomegranate seeds and parsley and top with the crumbled feta.
 We'd love to know what your favourite tupperware creations are, or if you've tried any of these al-desko delights! 
Lucy's Dressings x