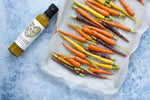 Sometimes you want to go the extra mile for your Mum so why not make a delicious homemade feast to celebrate everything she does for you. At the moment, here in the Lucy's office, we're loving dishes of fresh, seasonal ingredients that everyone can dig into and have little bits of whatever they fancy. 
These sharing platters work fabulously together, and make for a delicious feast, but feel free to mix it up with whatever you think your Mum will adore. 
GRAIN, POMEGRANATE, PARSLEY AND FETA SALAD 
INGREDIENTS
 Lucy's Fresh and Tangy Raspberry Dressing
250g Merchant Gourmet Glorious Grains, ready cooked
Seeds from 1 Pomegranate
Large bunch of Flat Leaf Parsley, roughly chopped
100g Feta
METHOD
 Place the grains in a large salad bowl.
Drizzle generously with the dressing and mix to combine.
 Stir in the pomegranate seeds and parsley and top with the crumbled feta.
ROASTED HONEY AND MUSTARD BABY RAINBOW CARROTS
INGREDIENTS
Lucy's Honey and Mustard Golden Dressing
400g baby carrots
METHOD
Preheat the oven to 220c.
Place the carrots on a large baking sheet and drizzle over the dressing. Season with salt and pepper and roast for 15 minutes or until the carrots are cooked. 
SMOKED MACKEREL AND SPINACH FISHCAKES
INGREDIENTS
Lucy's Blushing Beetroot Relish
400g mashed potato
250g smoked mackerel fillet
100g baby spinach , wilted
2 tbs plain flour,
1 egg, beaten
85g dried breadcrumbs
METHOD
In a large bowl mix together the potato, mackerel and spinach. Season with salt and pepper and shape into 4 large or 8 small even -sized cakes.
Roll the fishcakes in the flour, shaking off any excess, then dip in the egg followed by the breadcrumbs. Cover and chill until ready to cook.
Gently fry the fishcakes for 5 minutes on each side until crunchy, golden and hot all the way through.
Serve the Fishcakes with Lucy's Blushing Beetroot and a wedge of lemon.
SALAD OF WINTER LEAVES WITH FENNEL, BLOOD ORANGE AND PARMESAN
INGREDIENTS: 
Lucy's Original French Dressing
1 medium Fennel Bulb
100g Rocket, Watercress and Spinach Salad
Block of Parmesan for shaving
1 blood orange cut into slice
METHOD:
Slice the fennel very thinly using a mandolin and place in large salad bowl.
Toss the fennel together with the leaves, dressing and oranges. 
Finish by shaving over the parmesan.
We love serving all these dishes on beautiful mismatched crockery spread down the table for everyone to just help themselves to whatever they fancy. We also always thinking having a loaf of delicious sourdough to accompany the meal with is always a good idea!
How will you be celebrating Mother's Day this year? 
Love, Lucy's Dressings x