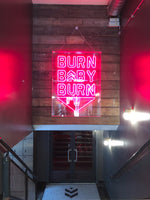 Here at Lucy's, we love starting our day or winding down from work with one of London's many amazing exercise classes. This week, we review our favourite classes so that you can mix up your workouts and make the most of what London has to offer.
Image credit: Core Connection 
Lucy - 'I like to mix up my workouts throughout the week, so on Wednesday's I love to start the day with a boxing class at Core Connection in Wandsworth. I think boxing is such a great all round workout; I always prefer to workout in the morning, after dropping my kid's off, as it leaves me feeling chirpy and focussed for the day ahead.'
Image credit: May @ Lucy's Dressings
May - Barry's Bootcamp is the best workout in the word. And it's true -  they trademarked it! You switch between strength based workouts with weights on the floor and HIIT sprints and hills on the treadmill for 60 hard minutes. It's a bit of a rude awakening at 7:10 in the morning but I wouldn't have it any other way! I love the intensity of Barry's, my bad-ass trainer Sam and the weirdly flattering red lighting that makes you feel like your best self in the studio. I'm just excited for the day I can finally persuade the rest of the team to join me in a session…
Image credit: Ursula @ Lucy's Dressings
Ursula - Whilst it's sometimes a bit of a struggle to wake up in the morning and I'm certainly not looking my best on the Victoria line at 6.30am; when I can, I love to start the day with a 7am barre class at Frame in Victoria. It's the perfect way to wake up as the barre routine combines toning and stretching, using pieces of equipment such as a small pilates ball and resistance bands, and of course the ballet barre, meaning you get a low impact full body workout. Frame just has the greatest feel good factor and girl power vibes, so try to book a class ASAP!
Image credit: Hebe @ Lucy's Dressings
Hebe - I'm not one for getting up at the crack of dawn for the pre-work exercise class, but I do enjoy a post work run around instead! Playing lacrosse on a Tuesday night is great to see friends and get a good work out in too; I've been playing lacrosse since I was 11, so I love that I can still have a good run around in London too. Got to get fighting fit for the weekend matches and make sure I maintain my winning streak on my fitbit challenge with my former colleagues!
We're always on the lookout for fun new workouts in London, so we'd love to know where you hit up to get the best workouts in London! 
Love, Lucy's Dressings x