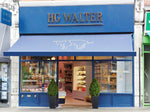 We've been working hard over the past few months to get Lucy's Dressings in as many new places as possible, making it easier for you to buy your favourite dressings and condiments! Hebe has been out and about a lot, and we've rounded up some of our new London stockists, so you know where you can get your Lucy's fix from! 
Moxons (Clapham South and Kensington)
Moxons in Clapham is one of our most local stockists and Hebe's first stockist that she secured when she joined in January. Here she is at a tasting on a Saturday afternoon, right before the shop opened and the madness began, apparently the queue was out the door for most of the day, clearly everyone knew Lucy's was now stocked here! 
As Nature Intended (Various locations accross London)
We're thrilled to be in this fabulous chain of stores across London. We do regular tastings at As Nature Intended, so be sure to check out our Instagram to see when we'll next be doing a tasting there! 
Greenbay (West Brompton)
This vegan supermarket is on a mission to make plant-based eating more convenient and delicious. With a wide variety of products, available in store and online, there really is something for everyone! Check us out on their online store here. 
(Image credit: 
Eat 17 (Hammersmith)
A foodie paradise situated between Hammersmith and Fulham, this is certainly a local store with a difference - whilst you can pick up all your everyday essentials, you can also pick up all your foodie treats too, an absolute winner in our eyes! 
(Image credit: Eat 17) 
Moens and Sons (Clapham Common) 
Another of our local stockists, this delicious butchers is a Clapham institution and we're delighted that they're now stocking Lucy's.
(Image credit: The Weekender) 
H G Walter (Baron's Court) 
This amazing butchers in Baron's Court is full to the brim of delicious produce and is a foodie's dream. 
(Image credit: Time Out) 
Islington Budgens (Islington) 
Crowned Britain's Best Convenience Store by The Grocer in 2018, this Budgens in Islington is a beautiful open plan store right in the heart of North London, stocking the most delicious produce. 
(Image credit: Retail Week)
We'd love to know if you've picked up some Lucy's Dressings from any of these great new stockists and where you'd love to see us next! 
Lucy's Dressings x