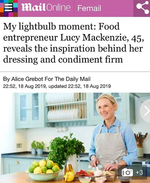 Lucy is delighted to be featured in the Daily Mail's Femail section this weekend, as part of their weekly featured entitled 'My Lightbulb Moment.' Each week a different entrepreneur is interviewed and this week Lucy shared the inspiration behind Lucy's Dressings and what spurred her on to start the company. 
Lucy started making dressings from her kitchen whilst pregnant with her third child, after months of trialling different recipes and ingredients, she settled on 4 flavours which she took to Aldeburgh Food and Drink festival where she was lucky enough to meet a buyer from Selfridges and Lucy's Dressings was launched into retail. Whilst the dressings are no longer made in Lucy's kitchen, we still use all the ingredients and methods you'd use at home - what we've done is create a delicious shortcut for busy people.
To read the full article, click here!