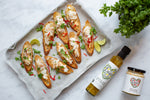 We're in the festive mood here at Lucy's and we thought we'd share with you some of our favourite Christmassy canape recipes using Lucy's. Even though are Christmas' might be a little smaller this year, doesn't mean we can't over indulge on bubbles and canapes!
Plus with our biggest ever Black Friday sale launching today, we thought we'd provide you with some delicious inspo meaning that you can make the most out of your Black Friday purchases. 
First up, Lucy's ultimate salmon canapes: 
The classic smoked salmon blini is made even more delicious with the addition of our Lemon and Caper Zesty dressing. An absolute must when serving blinis is to make sure you heat them up in the oven until warmed through, and don't just serve them straight from the packet! 
INGREDIENTS
160g packet Blinis
100g Smoked Salmon
Sour cream
Lucy's Lemon and Caper Zesty Dressing
Chives
METHOD
Place the blinis on a tray and place in a 200c oven for 2-3 minutes until warmed through.
Top blinis with smoked salmon, sour cream and chives and drizzle over the dressing.
Delicious mushroom arancini dipped in our Roasted Garlic and Black Pepper mayonnaise, a totally fabulous combination, and perfect washed down with a glass or three of fizz, it is nearly Christmas after all! 
1 packet ready made mushroom risotto
1 x 150g ball mozzarella, drained and diced
5og plain flour
2 eggs, beaten
100g panko breadcrumbs
Sunflower oil for frying
Lucy's Roasted garlic mayo
METHOD
Cook the risotto according to packet instructions and allow to  cool.

In a bowl mix together the risotto and mozzarella. Roll the risotto into small balls.

Place the flour , egg and breadcrumbs  onto separate plates and then coat each ball in flour, egg and breadcrumb. 

Heat the oil in a  large pan to 180c. Cook the arancini in small batches for  4 - 5 minutes until golden. Drain on  kitchen paper and sprinkle with salt.

Serve with the mayo.
Baked camemberts are perfect for sharing at smaller parties - pop a few out on the table with delicious toasted sourdough, our spiced plum chutney and some cornichons for a perfect nibble, whilst the drinks are flowing!
 INGREDIENTS
1 Camembert in box
1 clove Garlic, sliced
Sprig Thyme
Olive Oil
Cornichons
Sourdough 
Lucy's Spiced Plum Chutney from Lucy's Condiment Gift Box 
 METHOD
Preheat the oven to 2000 C /  Gas 6.
Remove any plastic packaging from the cheese and place back in its box, leaving the lid off.
Pierce the top of the cheese in several places with a sharp knife and insert pieces of garlic and sprigs of rosemary into the slits.
Drizzle the cheese with olive oil and place on a baking sheet, leaving the cheese in its box. Bake in the oven for 10 minutes, or until the centre of the cheese is melted.
Place the cheese on a board and serve with sourdough , c

ornichons 

and the chutney.
Crab crostini made even tastier with our new Lime and Chilli mayo, we've used delicious crab meat from our local fishmongers, and together this really makes the tastiest festive canape! 
1 small skinny baguette, cut on the diagonal into thin slices
1 tbs olive oil
200g white crab meat 
Handful of chopped coriander
Lucy's Chilli and Lime Mayo
1 red chilli finely slice
METHOD
Preheat the oven to 180c / 160 fan.

Place the baguette slices on a  greaseproof lined baking sheet  and drizzle over the olive oil. Season with salt and pepper and bake for 12 -15 minutes until golden and crisp. Allow to cool.

In a bowl mix the crab and coriander together with 2 - 3 tablespoons of the mayo. Spoon onto the crostini and sprinkle over the  chilli.
Lucy's homemade sausage roll recipe is surprisingly quick and easy to whip up and will be loved by all your guests young and old. Our absolute favourite way to enjoy these sausage rolls is with our Great Taste award winning Beetroot and Horseradish relish - a real winner. 
INGREDIENTS
 500g pork sausage meat
½ - 1tsp smoked paprika
4 tbsp finely chopped flat leaf parsley
375g ready rolled all butter puff pastry
1 egg yolk, beaten with a pinch of salt
1 tbsp black sesame seeds
Lucy's Blushing Beetroot Relish from Lucy's Condiment Gift Box
METHOD
Preheat the oven to 180c / gas 4.
Place the sausage meat , smoked paprika and parsley in a bowl. Season with salt and pepper and mix well together using your hands.
Sprinkle the work surface with flour and roll out the pastry . Cut the pastry lengthways using a sharp knife into 2 strips. Shape the sausage meat int 2 sausage shapes and place along the middle of each strip.
Brush either side of the sausage with the egg yolk. Fold the pastry over and press down to seal with the edge of a fork.
Brush the tops of the sausage rolls with the remaining egg yolk and sprinkle with the black sesame seeds. Cut into 5cm lengths and place onto non-stick baking sheet. Chill for 30 minutes.
Bake for 20 -25 minutes, until risen, puffed and golden brown.
Transfer to board and serve with the relish.
We'd love to know what your absolute go-to festive dish is during the Christmas party season - so do let us know, and remember to tag us in any of your festive recipe recreations during the season!
Love, Lucy's Dressings x