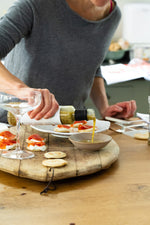 Make hosting your bubble a breeze this Christmas with Lucy's! Our Black Friday deal is in full swing, so we thought we'd provide you with some delicious inspo on how best to get the most out of your bottles... 
For all of the recipes below, we've used dressings and mayonnaises, which are currently on offer in our £10 bundles! Happy shopping 🎄
Plus remember, spend £30 and get a gift box for just £5, with free shipping! 
Chalkstream Trout Canapes with Lucy's Lemon and Caper Zesty (Lucy's Favourites Bundle)
160g packet Blinis
100g Chalkstream Smoked Trout 
Sour cream
Lucy's Lemon and Caper Zesty Dressing
Chives
METHOD
Place the blinis on a tray and place in a 200c oven for 2-3 minutes until warmed through.
Top blinis with smoked salmon, sour cream and chives and drizzle over the dressing.
Roasted Cavolo Nero, Parsnips and Jerusalem Artichoke with Lucy's Classic House (Lucy's Vegan Bundle)
4 Parsnips, peeled, trimmed and cut into 6cm and 2cm wide wedges
2 red onions, peeled and each cut into 6 wedges
2 garlic cloves, crushed
2 tbsp olive oil
4 sprigs of thyme
500g Jerusalem Artichokes, peeled and cut into 3cm wedges
200 g Cavolo Nero, stalks removed and leaves cut into 4 cm pieces
25g parsley , roughly chopped
Lucy's Classic House Dressing
METHOD
Preheat oven to 220 / Gas 7.
Mix together the parsnips, onions, garlic, oil, thyme and artichokes in a large bowl and season with salt and pepper. Place on large baking tray and transfer to oven.  Roast for 35 - 40 minutes until cooked and golden brown.
Meanwhile, bring a large pan of water to the boil. Add the calvero Nero and blanch for 2 minutes. Drain and refresh and pat dry. Add to the roasted vegetables and roast for a further 5 minutes.
Transfer the vegetables to large serving plate, drizzle over the dressing and sprinkle over the parsley.
Lucy's Honey and Mustard Golden Roast Potatoes (Great Taste Bundle) 
This recipe is super simple but will add absolutely delicious flavour to you roasties this Christmas...
Start by par-boiling your potatoes until tender.
Drain and fluff up in your colander - tip into a tray and generously drizzle with Lucy's Honey and Mustard Golden dressing.
Roast in a 200 degree oven for 50 minutes or until crispy. 
Dig in! 
Crab and Coriander Crostini with Lucy's Lime and Chilli Mayo (Lucy's Flavoured Mayo bundle) 
1 small skinny baguette, cut on the diagonal into thin slices
1 tbs olive oil
200g white crab meat 
Handful of chopped coriander
Lucy's Chilli and Lime Mayo
1 red chilli finely slice
METHOD
Preheat the oven to 180c / 160 fan.

Place the baguette slices on a  greaseproof lined baking sheet  and drizzle over the olive oil. Season with salt and pepper and bake for 12 -15 minutes until golden and crisp. Allow to cool.

In a bowl mix the crab and coriander together with 2 - 3 tablespoons of the mayo. Spoon onto the crostini and sprinkle over the  chilli.
Truffle polenta fries with Lucy's Vegan Mayonnaise or Vegan Chilli Mayonnaise - you decide! (Lucy's Vegan Mayonnaise Bundle)
300g instant polenta
100g unsalted  butter
75g  parmesan, finely grated
¾ tsp truffle oil
1 litre sunflower oil
Lucy's Vegan or Vegan Chilli mayonnaise 
METHOD
Fill a medium pan with 1 litre of water and bring to the boil. Slowly pour in  250g of the polenta, whisking continuously. Reduce heat and cook for 3 minutes, stirring frequently, until the polenta is smooth and thick. Stir in the butter , a few cubes at a time ensuring that it is incorporated before adding the next batch. Add the parmesan and 1 tablespoon of salt. Mix well  and then cook gently , stirring continuously so that it no longer sticks to the side of the pan. Remove from heat and stir in the truffle oil. Transfer to a greaseproof lined baking tray (20 cm x 30 cm). Allow to cool then place in the fridge for at least 2 hours to set.

Flip the polenta out of  the tin and cut into  10cm x 2cm chips.  Roll the chips in the remaining polenta so that they are dusted on all sides.

Heat the oil until hot and then deep fry the chips in batches for 3- 4 minutes until golden. Drain on kitchen roll and sprinkle lightly with salt.

Serve with the mayo.
We hope you love these recipes and they start to get you in the festive mood! Remember to tag us on Instagram or Facebook if you create any of these recipes and happy shopping!
Love, Lucy and the Lucy's team xx