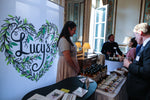 We were delighted to be invited to the British Embassy in Brussels for a celebration of the Queen's Birthday. We attended alongside other wonderful British brands such as Nyetimber, Pimm's, Snowdonia Cheese Company and Tiptree.
We had a stand where we sampled our delicious dressings and condiments to the over 330 guests who attended, whilst meeting a great array of people from the political and business worlds. Our Lemon and Caper Zesty dressing was also featured on one of the canapés in the evening. 
Thank you so much to Katrin for organising such a wonderful event and we're very much looking forward to hopefully doing business in Belgium in the future.