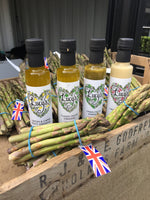 Yesterday, we were lucky enough to be invited by our friends at Enjoy Asparagus to help out with their takeover of Boxpark in Shoreditch. They had a 3 day pop up to raise awareness for the British Asparagus season, which runs from 23rd April - 21st June. 
Each day countless bundles were handed out, whilst spears were barbecued up ready to give to the crowds in Shoreditch. The asparagus was simply cooked with olive oil, salt and pepper, before being drizzled with Lucy's Dressings on the Wednesday - absolutely delish! 
We were also treated to an utterly delicious lunch from Salad Mafia at Box Park; although our lunch-break was certainly cut short as everyone just kept wanting more and more asparagus! 
We're so thrilled to have partnered with Enjoy Asparagus this year, and have plenty of delicious recipes coming your way to make the most of this fabulous British, seasonal produce.
Thank you to Pam Lloyd PR for inviting us along for the day.