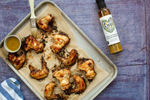 With summer in full swing, and the good weather (hopefully) here to stay - what better way to celebrate than with a delicious BBQ. We've put together some of our favourite BBQ recipes, which taste amazing and if it decides to be classic British weather, they can also be cooked in the oven - don't worry, we've got your back! 
To kick things off, we have the most delicious BBQ chicken wings: 
Marinated BBQ Chicken Wings
Ingredients
12 Chicken Wings
Lucy's Honey and Mustard Dressing
Method
Place the chicken wings in a shallow dish and pour over enough dressing to lightly coat.
Heat the BBQ to a medium heat. Place the chicken wings on the BBQ and cook turning frequently for 15 minutes or until cooked through and golden. Serve immediately.
Marinated Romano Peppers with Buffalo Mozzarella 
Ingredients
4 Romano peppers
2 tbs olive oil
Lucy's Balsamic Dressing
1 bag Steve's Leaves - Baby watercress and Littles Leaves (optional)
200 g Buffalo Mozzarella
Large handful of basil leaves
Salt and Black pepper
Method
Preheat the BBQ.
Place the peppers on a roasting tin and drizzle over the olive oil. Season with salt and pepper and BBQ for 20 minutes or until they are soft and have take on some colour. 
Top the peppers with the salad leaves. Break the mozzarella into large pieces  with your hands and dot it over the peppers. Drizzle over a little extra dressing and season with salt and pepper.
BBQ Aubergines
Serves 4
Ingredients
2 medium Aubergines
4 tbs olive oil
Lucy's Lemon and Caper Dressing
2 tbs oregano , chopped
2 tbs flat leaf parsley, roughly chopped
Salt and Black Pepper
Method
Preheat the BBQ
Slice the aubergines into 2cm discs. Brush each disc on both sides with oil and season with salt and pepper. Place on the BBQ and BBQ until charred and cooked through. Remove from the BBQ and allow to cool slightly.
When ready to serve transfer the aubergines to a shallow dish, drizzle over the dressing and gently mix together . Sprinkle over the herbs and serve.
To go with these delicious BBQ delights, these salads always go down an absolute storm and are perfect for the summer months! 
Watermelon, Feta and Pumpkin Seed Salad 
Ingredients
1 small watermelon
200 g feta
50g pumpkin seeds, toasted
Handful mint leaves , roughly chopped
Lucy's Fresh and Tangy Raspberry Dressing
Method
Cut the watermelon into thick wedges and arrange on a large platter.
Crumble over the feta and sprinkle over the pumpkin seeds.
Drizzle over the dressing and top with the mint. Serve immediately.
Asparagus, French Bean, Broad Bean Salad with Black Sesame Seeds 
Ingredients
350g asparagus, trimmed and cut in half lengthways
200g fine green beans, trimmed
300g broad beans, fresh or frozen
1 banana shallot, finely sliced
1 bag of Steve's leaves - pea shoot
1 tbs black sesame seeds
Method
Bring a large pan of water to the boil. Add the asparagus and blanch for 2 -3 minutes or until just tender. Using a slotted spoon remove from the water and refresh. Add the beans and blanch for 3 minutes and use the slotted spoon to remove from the water and refresh. Add the beans and blanch for 1 minute and drain and refresh. Remove the skin from the broad beans.
Place all the vegetables in a large bowl with the shallot and salad leaves and toss together with the dressing and season. Sprinkle over the sesame  seeds and serve immediately.
 We would love to see you recreating some of these dishes - so if you do try them please do tag us on Instagram or Facebook @lucysdressings
Lucy's Dressings x