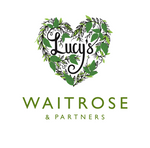 We're all so excited to announce that as of this week our delicious new Green Pesto dressing is available in Waitrose stores nationwide and online! 
We've been working really hard behind the scenes on this recipe over the past year and are delighted that everyone so far is loving it as much as we are! We'd absolutely love it if you're doing your weekly shop in Waitrose if you picked up a bottle - we promise that you won't regret it! 
So far our favourite ways to enjoy it are drizzled over penne, tomatoes or ciabatta, but we'd love to see your recreations so do remember to tag us on Instagram or Facebook @lucysdressings . 
Thank you once again to Big Fish for giving our latest addition to the Lucy's family such a beautiful design! 
Lucy's Dressings x