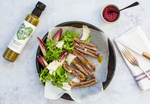 INGREDIENTS
225g Beef Sirloin Steak
1 tbs Olive oil
1 Red Chicory
30 g Rocket
20 g Basil leaves
50 g Parmesan
Lucy's Pesto Dressing
Salt and Black Pepper
 METHOD
Heat the BBQ to a high heat.
Rub the steak with olive oil and season with salt and pepper. Place the steak on the BBQ and sear for 2 minutes on each side (medium rare). Remove from BBQ and set aside to rest for 5 minutes.
Place the chicory, rocket and basil leaves in a serving bowl and dress with the pesto dressing.
Slice the steak against the grain into ½ cm slices. Add the beef to the salad, shave over the Parmesan and serve at once.