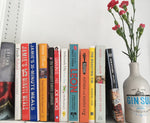 Here at Lucy's, we're all mad about cooking and whilst we don't always have the time to create super elaborate dishes, when we can, we love to cook up some delicious recipes from some of our favourite cookery books. 
Simple - Yotam Ottolenghi 
Lucy thinks Ottolenghi's new book Simple is an absolute staple in the kitchen now. 'This recipe book is just full to the brim with delicious ideas and many of them so quick and simple to do. This recipe book is perfect for a relaxed mid week dinner party, I love to cook a few simple dishes and serve it on platters down the table for everyone to pick a choose a little of what they fancy.'
Leith's Baking Bible - Susan Spaull and Fiona Burrell 
Ursula's most used cookbook is by far her copy of Leith's Baking Bible, this absolute giant of a book has every conceivable baking recipe under the sun. 'From muffins, to breads, to cake to pastries, if it's a baked good, this book will have it! Mine has had a real battering over the years, with lots of pages now stuck together with cake mix, but surely that's a sign of how great the book is!?' 
Deliciously Ella - Ella Mills
May's favourite has to be the original Deliciously Ella cookbook. It forms the basis of much of May's cooking and even though May isn't vegan, many of May's lunchboxes certainly have a Deliciously Ella stamp on them. May says her absolute favourite recipe 'has got to be her pesto pasta recipe, I make that pesto with my eyes closed now!' 
Ballymaloe Cookbook - Darina Allen 
After completing the 3 month cookery course at Ballymaloe, Hebe's favourite and most used book is undoubtedly the Ballyamloe Cook Book. The battered copy sits proudly on her desk in the Lucy's Dressings office, with her ultimate recipe from the book being their delicious and classic wholemeal bread. Whilst we're yet to taste test Hebe's bread making skills here in the office, the other recipes she's made us have been utterly delicious, so we're now counting down the days till we get to try this wholemeal bread!