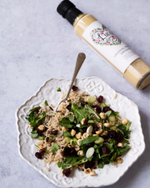 1 x 250g Tilda cooked Brown Basmati and Wild Rice
1 lemon, zested
1 clove garlic, crushed
55 g dried cranberries
55g hazelnuts, roasted and roughly chopped
4 spring onions, finely sliced
25 g flat leaf parsley, roughly chopped
2 tbsp tarragon, chopped
30 g rocket leaves
Lucy's French Dressing
METHOD
Cook the rice to packet instructions.
Place the rice into a large bowl and mix together with the garlic , lemon zest and 4 tablespoons of dressing and season with salt and pepper.
Stir in the cranberries, hazelnuts, spring onions and herbs.
Transfer to a shallow serving dish and top with the rocket.