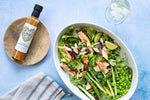 Lucy's Ginger and Sesame Dressing
2 thick Salmon fillets, skinned
100g Asparagus
100g broad beans ( fresh or frozen), blanched, refreshed and outer skin removed
100g sugar snap peas, blanched, refreshed and halved lengthways
1 bag Steve's Leaves - Wild Rocket and Oriental Baby Leaves
2 spring onions, finely sliced
1 red chilli, finely sliced
Lime wedges to serve
Method
Place the salmon fillets in a shallow dish and drizzle over the dressing to lightly coat.
Preheat the grill to high. Place the Salmon fillets on a foiled lined baking sheet and place under the grill and cook for 8 - 10 minutes depending on the thickness of the Salmon.
Place the salad leaves, broad beans and sugar snap peas in a large bowl . Toss together with the dressing and divide between two plates.
Top with the Salmon and sprinkle over the chilli and spring onions. Serve immediately with wedges of lime.