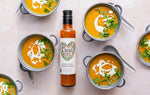 Comforting, warming, nourishing… you just can't beat this Pumpkin and Coconut Dahl on a chilly day. Rich in flavour thanks to fresh garlic and ginger, turmeric and a good drizzle of Lucy's Lime and Chilli Asian Dressing.
INGREDIENTS
1 small Pumpkin or Butternut squash, peeled and diced into 3 cm cubes
Lucy's Lime and Chilli Asian Dressing
2 Garlic cloves, crushed
4 cm piece Ginger, peeled and grated 
1 tsp Turmeric
250g Red lentils, washed until the water runs clear
1 tin Coconut milk
Handful Coriander leaves, roughly chopped
METHOD
1. Put four tablespoons of the dressing into a medium pan and place over a medium heat. Add the squash and turmeric and cook 3- 4 minutes. Add the lentils, 1.5 litres of water and a teaspoon of salt. Bring to the boil, skimming off any scum from the top. Simmer for 25 - 30 minutes until the pumpkin is breaking up and the lentils are soft. Stir through the coconut milk (set aside 4 tablespoons) and simmer for a further 5 minutes
2. Ladle the dahl into shallow bowls, drizzle over the reserved coconut milk, some dressing and sprinkle with the coriander.