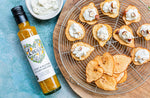 A simply stunning canapé to impress your guests this festive season. Homemade pear chips dolloped with a light and airy whipped blue cheese mixture, then drizzled with Lucy's Honey and Mustard Dressing.
INGREDIENTS
2 slightly under-ripe Pears, sliced width ways into 1mm slices (use a Mandolin if you have one)
100g soft Blue cheese
100ml Whipping cream
Large squeeze of Lemon juice
A few sprigs of thyme leaves, roughly chopped or CHIVES
25g toasted Hazelnuts, roughly chopped
Lucy's Honey and Mustard Dressing
METHOD
Preheat the oven to 120c / 100 fan /gas ½ .
Place the pear slices on 2 baking sheets lined with greaseproof paper and place in the oven. Bake for 2 - 2 ½ hours, turning halfway through. Turn off the oven and leave the pears in for another half an hour to crisp up and dry out. Transfer to wire racks and allow to dry out.  Store in an airtight container.
Put the cheese, cream and lemon juice in a bowl and whisk using an electric whisk until light and airy.
Pipe or spoon the cheese onto each crisp and place on a serving board. Top with thyme/ chives and a drizzle of Lucy's Honey and Mustard Dressing.