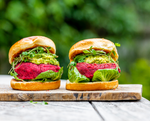 Packed with chickpeas, bulgar wheat and lots of fresh veggies, it's never been easier to get your fibre and plant-based protein fix... in burger form! Each element is bound together by Lucy's NEW flavour-packed Miso & Garlic Dressing
INGREDIENTS:
50g bulgar wheat
3 tbs olive oil
1 large onion , finely chopped
2 cloves garlic , crushed
1 red chilli, finely chopped
1 tsp ground coriander
1 large cooked beetroot, coarsely grated
Large handful of coriander , chopped
1 lime, zested and juiced
1 cans chickpeas, drained
1 large eggs
Salt and black pepper
1 large avocado
100g feta
Alfalfa sprouts
4 burger buns or ciabatta rolls
Wedges of limes
METHOD
1. Cook the bulghar in a small pan of water for 5 minutes, drain and allow to cool.
2. Heat one tablespoon of the  oil in a small pan, add the onion and gently cook for 10 minutes until soft. Add the garlic, chili and ground coriander and cook for a further 2 - 3 minutes.
3. Place the bulgar, chickpeas, onion mix , beetroot, egg, coriander,  lime zest, salt and pepper and two tablespoons of dressing into a food processor and pulse until just combined. Shape into 4 burgers.
4. Heat the remaining oil in a large frying pan over a medium heat. Add the  burgers and cook for 4- 5 minutes on each side or until golden brown.
5. Meanwhile place the avocado, feta and lime juice in a small bowl and mash  with a fork.
6. Divide the avocado mixture between the rolls and top with the alfalfa, burgers and a drizzle of the dressing. Top with the roll tops and serve with wedges of lime