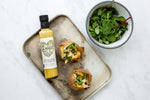 Lucy's Lemon and Caper Dressing
2 Baking Potatoes
1 ta
1 Jar of Tuna in olive oil
2 Eggs, soft boiled
Large handful of Flat leaf Parsley, roughly chopped
Maldon sea salt and pepper to taste
METHOD
Preheat the oven to 220 c
Place the potatoes on a baking tray and drizzle with the olive oil, and sprinkle over the salt. Bake for 1 hour until the skin is crisp and middle is soft.
Flake the tuna into a bowl and gentle mix with the dressing and parsley (reserve some for serving).
To serve, slice the hot potato in half but not all the way through and squeeze the outside. Spoon over the tuna and top with an egg, torn in half, sprinkle over the remaining parsley and some black pepper.