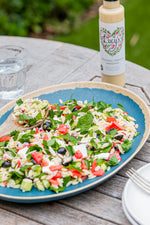 Lucy combined classic ingredients with orzo (our new favourite pasta!) and her Original French Dressing to create this cooling Grecian-inspired Orzo Salad.  
INGREDIENTS:
200g orzo
Lucy's Original French Dressing
2 large ripe tomatoes , seeded and roughly  chopped 
2 small lebanese cucumbers (or half regular English cucumber - halved a seeds scooped out), chopped
½ small red onion , finely chopped 
50 g black olives , pitted and roughly chopped
50g flat leaf parsley , roughly chopped
25g mint leaves , roughly chopped
100g feta, crumbled
Sumac 
METHOD:
1. Bring  a large pan of salted water to the boil. Add the orzo and cook according to packet instructions until just cooked through. Drain the pasta and run under cold water and allow it to drain well.
2. Transfer the pasta to a large bowl and stir in a generous amount of dressing . Allow to sit for an hour to allow the pasta to absorb the dressing.
3. Stir in the tomatoes, cucumber, onion, olives and most of the herbs and season with  salt and pepper.
4. Transfer to a large flat serving bowl and top with the remaining herbs and crumble over the feta. Finish with a generous sprinkling of sumac .