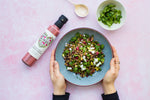 Pretty in pink! Our grain, pomegranate, parsley and feta salad is a fabulous way to add a bit of colour to a summer spread and tastes delicious.
INGREDIENTS
Lucy's Fresh and Tangy Raspberry Dressing
250g Merchant Gourmet Glorious Grains, ready cooked
Seeds from 1 Pomegranate
Large bunch of Flat Leaf Parsley, roughly chopped
100g Feta
METHOD
Place the grains in a large salad bowl.
Drizzle generously with the dressing and mix to combine.
Stir in the pomegranate seeds and parsley and top with the crumbled feta.